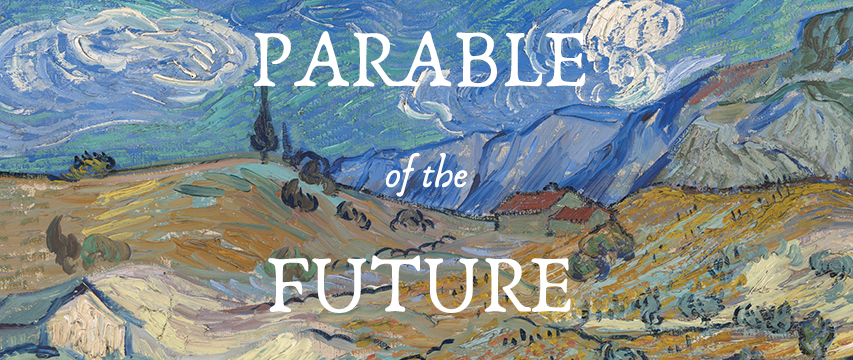 Parable of the Future
A downloadable regenerative farm game
For a long time we lived as if human progress and growth were infinite and worthy beyond all costs, that our way of life was right and good. Now we know that's not true, and everything is unraveling–the climate, the economy, our communities–and business as usual can no longer go on. We're left with this: a time to shift and turn, or perish. Rather than unravel, we can choose to return to each other and our shared place, to rethink and regenerate our ecological and social systems. We can care for the earth, for each other, and for the future. This will take time, trust, and will, and we are running out of time.

When the last card in the game has been drawn, generations may have passed. We may or may not survive. The biosphere may be devastated or changed beyond recognition and ability to survive. This is when the game will end. But we don't know about that yet. What we do know is that right now, in this moment, we have a responsibility to regenerate.
To grow a better future, we need to plant the seeds of it today.
PARABLE OF THE FUTURE is one such seed. A hack and mash of THE QUIET YEAR by Avery Alder and TWILIGHT SONG by Speak the Sky crafted for the REGENERATE Game Jam.
What is PARABLE OF THE FUTURE?
This is a map-drawing game. This is also a story-telling game and a worldbuilding game. Together, you play as a community trying to regenerate where we live and how we care for the earth, each other, and our future here. Your decisions will define the values and future of this community and the place they inhabit, and these decisions will get added to a map which is constantly evolving. This map blends literal cartography with symbols, creating a rich visual record of place and people. Players collaborate to steer the fate of the community, while also introducing problems and tensions along the way.
Key features of PARABLE OF THE FUTURE:
A GMless, pastoral game filled with community drama and cozy problem solving
A hopeful look at an alternative way forward
One prompt specifically praising the goodness of garlic
Content Warning
The setting is based in the aftermath of our current climate crisis and mass extinction, so playing may lead to anxieties around our present situation.

Credits
PARABLE OF THE FUTURE is a hack of THE QUIET YEAR by Avery Alder and TWILIGHT SONG by Speak the Sky crafted for the REGENERATE Game Jam. It was created over a 48hr period by the team below.
Lead
Sam(wise) Figgins
(@HermioneBanger / Itch: https://affinity-games.itch.io)
Assistants:
Oracle Prompts and Curated Playlist:
Marren J. T. MacAdam
(@Marrensmusings / marrensmusings.itch.io)
Additional Oracle Prompts:
Barney Dicker
(@loco_ludus / loco-ludus.itch.io)
Assistant:
David Blandy
(@davidblandyrpgs / davidblandy.itch.io)
Layout:
Eryk Sawicki
(@peregrine_coast / peregrinecoast.store)
Remote Play
You can play this remotely by adapting these instructions for playing The Quiet Year with Zoom and Zoom's Whiteboard and Annotations turned on. Or you can use a shared Google Jamboard instead. It helps to also create a shared document to replace the index record cards, such as in this example for The Quiet Year.
Check back here soon for:
| | |
| --- | --- |
| Status | Released |
| Category | Physical game |
| Rating | |
| Authors | David Blandy, Marrensmusings, Affinity Games Collective, Eryk Sawicki, Loco Ludus |
| Tags | Cozy, diceless, Farming, GM-Less, journalling, map, pastoral, quiet-year, Tabletop role-playing game, world-building |
| Average session | A few minutes |
| Languages | English |
| Multiplayer | Local multiplayer |
Download
Click download now to get access to the following files:
Parable of the Future.pdf
2 MB
Reference Cards.pdf
63 kB